What is Windows update?
The Essential Guide to Windows Update: Importance for Cybersecurity and Antivirus Protection, How it Works, and Troubleshooting Tips.
Windows Update is referred to as the service provided by Microsoft Corporation that delivers updates for the Windows software operating system and other Microsoft software from time to time. These updates usually include service packs, patches, and device drivers, every piece of which serves a specific function aimed at resolving issues, enhancing performance, or introducing
new features
to any Microsoft software product.
Looking at it Windows updates act as critical
protective measures
for PCs and networks. They are part of a comprehensive cybersecurity strategy and a necessary defense measure to safeguard the system against various forms of external threats. The importance of a Windows update in enhancing cybersecurity and delivering antivirus defense cannot be trivialized as these updates function beyond just giving your system new features.
Windows manufacturer, Microsoft, frequently provides updates to its Windows operating system with a view to patching security vulnerabilities that have been discovered. These vulnerabilities or loopholes within the software can be exploited by hackers or cybercriminals to introduce
malicious programs
, breach the system's security, and invariably gain
unauthorized access
to the personal, business or financial information on such system. Hence, leaving software without updates exposes your system to a host of cybersecurity risks.
In similar vein, hackers continuously work to identify vulnerabilities in any viable system and exploit them. This means that cybersecurity and antivirus protections need to keep advancing to keep pace with the sophisticated techniques being continuously developed to breach software systems. In this context, Microsoft provides
regular updates
to its security software, Windows Defender—now known as Microsoft Defender—to ensure that systems running the Windows operating system have the latest antivirus and malware definitions, and other necessary tools to cope with new threats.
The Windows update thus serves as a vital antivirus tool, it regularly provides real-time protection against a host of developing threats. It scans PCs for malicious or potentially
unwanted software
and automatically takes action against any that is found. It also provides the latest updates to its virus and spyware definitions so that your system can better detect new threats. Windows update helps the
antivirus software
to stay up-to-date with the prevention and
detection
of latest forms of viruses, which proactively helps in maintaining the system's health and minimizing the risk of being compromised.
Updates also include feature improvements and new capabilities that enhance your overall computing experience. Apart from general
bug fixes
that can help systems run smoother and faster, updates also potentially add to the strength and effectiveness of cyber-protection measures based on new developments and trends in
cybersecurity threats
.
Therefore, not installing these updates promptly places your computer security at significant risk. Cybersecurity best practice recommend that users have their PC set for automatic Windows Updates, therefore ensuring the system's critical software are the newest versions available developed to counter recent threats.
Adding to the Windows Update slew of functions, it also features a roll-back option, allowing users to quickly restore their systems to the previous version of the operating system or software if an update causes issues on the system.
Keeping your Windows operating system updated is crucial for maintaining the security and integrity of your data and should form an integral part of your overall cybersecurity strategy. Windows update serves more than just a tool for
system optimization
, it represents an essential layer in the elaborate antivirus defense mechanism, assisting to safeguard system against
cyber threats
– whether known or emerging. As the world continues to experience burgeoning cybersecurity threats, adhering to
software update
recommendations promises a better shield of protection against this backdrop.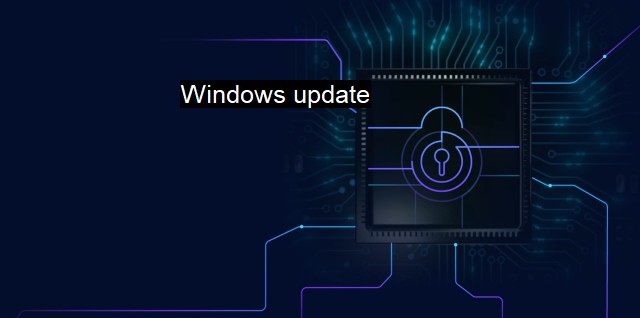 Windows update FAQs
Why is it important to regularly update Windows for cybersecurity and antivirus purposes?
Regularly updating Windows is crucial for cybersecurity and antivirus purposes because it ensures that any vulnerabilities or bugs that could be exploited by hackers are fixed. Additionally, many security updates are specifically designed to protect against new malware and viruses that have been discovered.
How can I check if my Windows updates have been installed and are up-to-date?
You can check if your Windows updates have been installed and are up-to-date by going to the "Settings" app, clicking on "Update & Security," and then selecting the "Windows Update" tab. Here, you can view your update history and check for any available updates.
What should I do if my Windows updates are failing to install?
If your Windows updates are failing to install, you should try restarting your computer and trying again. If the problem persists, you can try running the Windows Update Troubleshooter or manually downloading and installing the updates from the Microsoft Update Catalog website.
Can I turn off automatic updates on Windows for cybersecurity and antivirus reasons?
While it is technically possible to turn off automatic updates on Windows, it is not recommended for cybersecurity and antivirus reasons. Automatic updates ensure that your system is always up-to-date and protected against the latest security threats. If you turn off automatic updates, you risk leaving your system vulnerable to attacks.