What is Website Monitoring?
Protecting Your Online Presence: Importance of Website Monitoring in Cybersecurity and Antivirus Strategies
Website monitoring is an essential service that checks websites and online services for issues related to performance and security. it means continually testing and verifying that end-users can interact with a website or web application as expected and without interruptions. With online services becoming more widespread, complex, and crucial for global businesses, effective
website monitoring
is foundational to their uninterrupted operations and their user-experience.
Cybersecurity is a critical part of website monitoring. In the current age,
cyber threats
are progressing as rapidly as digital advancements. These may range from simple ones intended to disrupt services to sophisticated attacks aiming to steal or alter sensitive information. Given the broad array of threats ranging from
DDoS attacks
, malware, ransomware, attack from botnets,
SQL injection
attacks, and
zero-day exploits
, businesses have to be well-equipped when it comes to their
web security
protocols.
Website monitoring can effectively help in identifying such threats. It can ensure that the website is functioning as intended, is accessible to users, and is secure from any potential breaches or violations. This is where cybersecurity-driven website monitoring becomes crucial.
In website monitoring, businesses look for issues that can lead to service disruptions, such as website defacement, unauthorized changes, unexpected traffic peaks, or response time instability. In terms of cybersecurity, addressing these issues translates to identifying the early signs of a
cyber attack
, thereby preventing potential damage.
Several methods can be embraced in protecting and monitoring a website against potential threats. One key strategy is allowing an in-depth analysis of website traffic. For instance, website monitoring tools can discern between legal visitors and
malicious traffic
intent on causing harm. These tools can identify irregularities and specific malicious patterns, thereby ensuring an extra layer of security.
Understanding the importance of website monitoring in cybersecurity is incomplete without considering antiviruses. Simply put, antiviruses work by detecting, preventing, and removing
malicious software
.
Web monitoring
tools can oversee if the antivirus is effectively protective and isn't disabled due to an attack. website monitoring platforms are continuously updated with the latest pre-emptive measures against the newest threats, ensuring that the antivirus system remains robust against imminent attacks.
One cannot downplay the importance of
real-time monitoring
, which forms an integral part of website monitoring. Real-time monitoring continuously observes the website's activities, delivering instant alerts about any abnormalities or potential security threats. This prompt delivery of crucial information allows for quick scanning of potentially dangerous elements, timely intervention, prevention of malicious activities, and minimization of possible damage, which is critical in keeping virtual premises safe.
On a final note, it's important to understand that website monitoring in cybersecurity goes beyond purely technical aspects. It helps maintain a business's online reputation by preventing security incidents that could compromise user trust and degrade the website's quality. Having an inaccessible, slow, or compromised website can turn users away and potentially harm a business.
Website monitoring is a crucial aspect of cybersecurity and antivirus. Effective monitoring ensures optimal performance, delivers seamless user experience, and provides robust security by detecting and eliminating potential threats. With cyber threats evolving each day, it is integral for businesses to have a reliable and proactive website monitoring framework in place. The goal is clear: to offer uninterrupted, secure and high-quality online service offerings wrapped around superior customer experiences.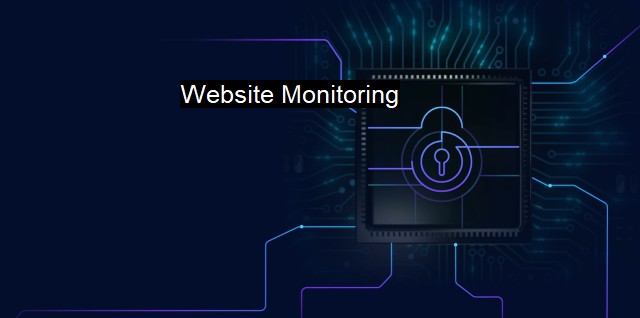 Website Monitoring FAQs
What is website monitoring and why is it important in cybersecurity?
Website monitoring is the process of regularly checking your website's performance and availability to ensure its functionality and security. It is vital in cybersecurity as it helps detect and prevent cyber threats, such as malware infections, hacking attempts, and DDoS attacks, which can potentially harm your website and compromise user data.
What are the benefits of using a website monitoring tool in antivirus protection?
Website monitoring tools provide real-time alerts and notifications that immediately alert you if there's a malware or virus infection on your website. This allows you to take immediate action and prevent further damage to your system, minimizing the risk of a data breach. Additionally, these tools perform regular scans to detect and isolate any potential security vulnerabilities and other security risks.
What features should I look for in a good website monitoring tool?
A good website monitoring tool should have several essential features, including real-time alerts, automatic scanning, customizable notifications, advanced analytics, and customizable reporting. These features will allow you to monitor and track the performance of your website and potential threats, and give you the ability to act quickly to prevent major issues.
How often should I perform website monitoring checks?
You should perform website monitoring checks as frequently as possible, ideally multiple times per day. This will allow you to detect any potential security issues early and take appropriate action before they escalate. Regular monitoring also helps you to identify trends in website performance, such as peak traffic periods and server load, allowing you to optimize your website and improve its overall performance.